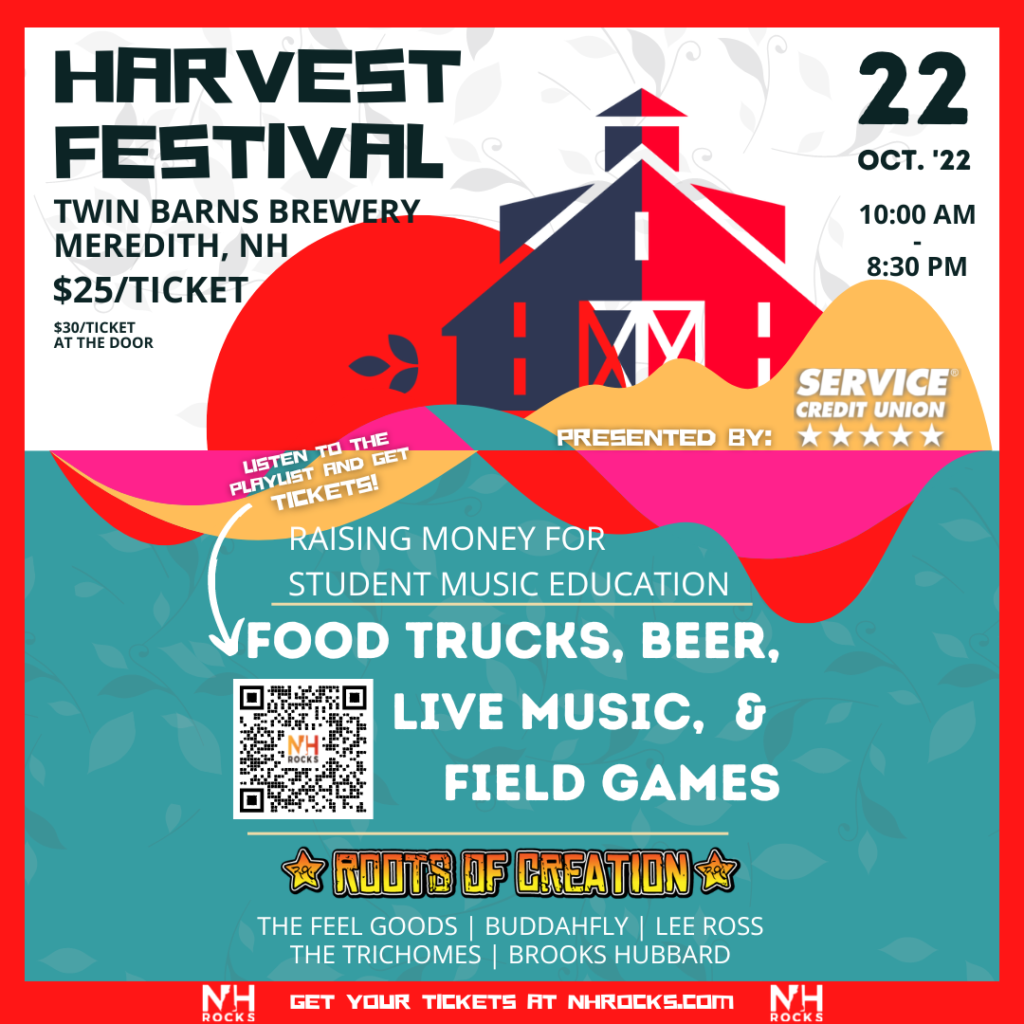 Waypoint Writing is beyond excited to announce that we are among the sponsors of this year's inaugural Harvest Fest, hosted by NH Rocks!
Harvest Fest will be hosted at Twin Barns Brewery in Meredith, New Hampshire on Saturday, October 22 from 10 AM – 8:30 PM, rain or shine!
What exactly is Harvest Fest?
Check out the details below… including a link to purchase tickets and join in the fun – all for an incredible cause!
Let's Rock!
NH Rocks' Harvest Fest is a full-day fundraiser to support music education in New Hampshire.
Presented by the Service Credit Union, the event's main focus is to raise money and awareness of the importance of music programs within schools.
The event will feature food trucks, Twin Barn's beer, vendors, field games, and more than six hours of live music with performances by Brooks Hubbard, The Trichomes, Lee Ross, Buddahfly, The Feel Goods, and Roots of Creation.
You can even preview some of these sweet sounds on Spotify.
Check out the playlist here!
Making it Rain for Music Education in NH!
This first annual Harvest Fest aims to raise $18,000 to benefit Music Will, formerly Little Kids Rock.
The largest national non profit music program in the U.S. public school system, Music Will has innovated in the way students learn and experience music.
The teachers for Music Will currently serve more than 500,000 students across 600 cities and towns across the country!
In the next five years, the organization hopes to bring the gift of music to one million more kids.
Wanna help?
Why not purchase tickets for Harvest Fest?
Help NH Rocks Reach its Goal!
NH Rocks is an organization created to inform, empower, and connect people who live and work – or want to! – in New Hampshire. Their efforts help business owners, volunteers, and locals discover things to do in the Granite State to make our community more connected and fun.
Harvest Fest is just their latest mission… check out their website and follow them on social media to keep up with all the news from NH Rocks.
In the meantime, mark your calendar for Harvest Fest, Saturday, October 22, and help us put music education on the map for more kids in NH!
Waypoint Writing is Proud to Sponsor Harvest Fest '22!