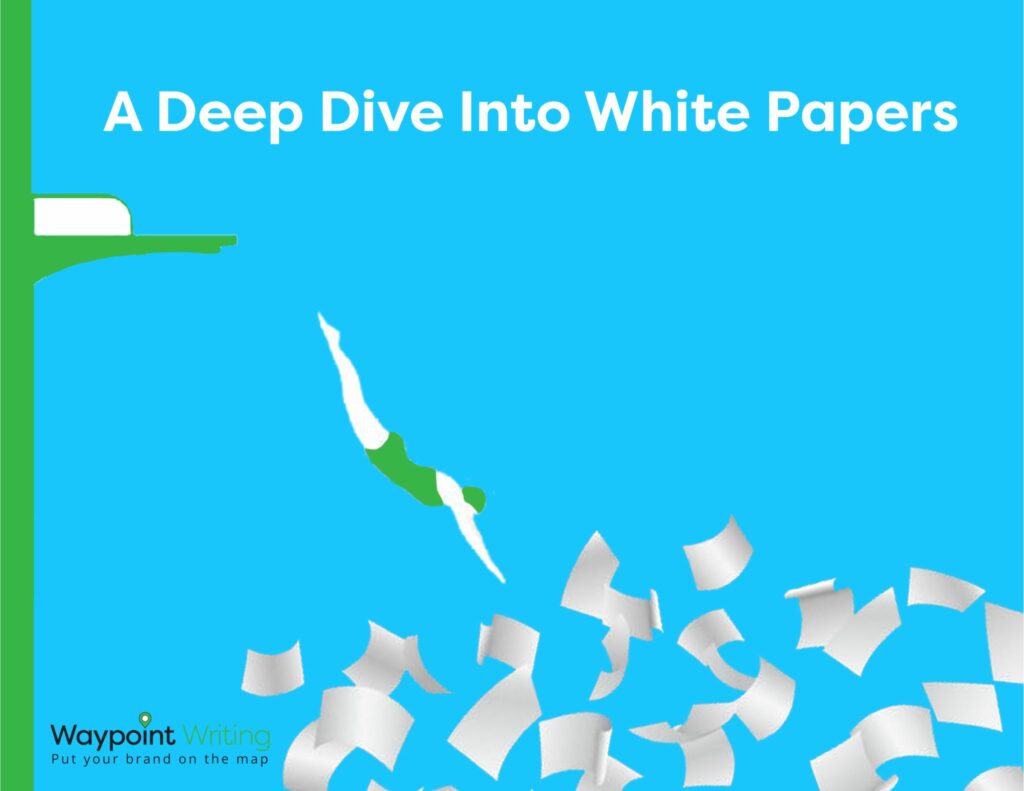 One powerful tool that often goes unnoticed in the world of marketing and business development is the white paper. While many people associate white papers with technical and industry information, these papers are far more than just dense reports.
White papers are actually a great way for businesses to establish thought leadership, generate leads, and drive growth. But how?
Well, first let's get into what a white paper really is. 
Read more

: A Deep Dive Into White Papers
What is a White Paper?
A white paper is an authoritative document that presents a problem, analyzes it, and proposes a solution or recommendation based on research and expert insights. For instance, an event technology company may develop a white paper about how event check-in processes are typically unorganized and timely. They will begin by stating that as the problem, analyzing it, and then proposing their own event technology software system as a solution.
A white paper allows a business to identify a problem within their industry and explain how their product or service can be a solution for that problem.
White papers are typically longer than blog posts and provide an in-depth examination of a specific topic within an industry. They are used by businesses to educate a target audience, establish credibility, and position themselves as industry leaders.
What a White Paper Can Do For Your Business
Investing in white papers can have numerous advantages for business across various industries. Here's why you should consider incorporating white papers into your marketing strategy:
Establish Thought Leadership: By presenting valuable insights, research, and expertise in a white paper, businesses can position themselves as thought leaders within their industry. This helps to build trust and credibility among potential customers and industry peers.
Generate Leads: White papers are excellent generation tools. By offering valuable information, businesses can capture the contact information of interested readers, which can be used for follow-up marketing campaigns.
Educate and Inform: White papers allow businesses to educate their target audience about complex topics, emerging trends, and industry best practices. By offering solutions to common problems, businesses can showcase their expertise and build trust with potential customers.
Boost Conversion Rates: A well-crafted white paper can be a useful tool for converting leads into customers. When potential customers see a business's in-depth knowledge and expertise in a particular area, they are more likely to consider the company's product or services.
Competitive advantage: In industries where competition is fierce, white papers can provide a competitive edge. By sharing unique insights and innovative ideas, businesses can differentiate themselves from competitors and position themselves as pioneers in their field.
Don't Believe Us? Check Out These Stats!
What Makes a White Paper Good?
White papers are different from blog posts in the sense that they are more serious, in-depth pieces. This is why people are willing to give something for a white paper. They view it as higher value content.
It is important to note that just because something is informative and lengthy does not mean that it has to be boring. The best white papers are compelling and they captivate the reader long enough to convince them you're right. To accomplish this, you must have…
A clear, interesting storyline. How will this information benefit your audience? Why should they read it? There has to be a point and you have to make it clear.
Stats, facts, and figures. Did you notice how much more you were persuaded by this blog post after reading the statistics? This is for good reason. Having claims and arguments that backup your story are crucial. They add credibility and help you build authority.
Visuals and illustrations. Having all the words there is important, but breaking up those words in a digestible way for your reader is even more important. No one wants to open up a document and be overloaded with pages of text. We need pictures, charts, graphs, etc., to break up all the information. To top it all off, visuals are a great way to help you articulate your points and reinforce what you are trying to say.
A call to action. The whole purpose behind writing a white paper is to prove to your audience that you have a solution for their problem. Be sure to make it clear to your customer what you want them to do next. Do you want them to make a purchase? Sign up for your email list? Start a free trial? Tell them with a simple CTA!
What Now?
When done right, a white paper is one of the best ways to drive engagement. These documents offer a unique opportunity to educate, inform, and engage with your target audience while building credibility and trust.
By utilizing the power of white papers, businesses can gain a competitive advantage, boost conversion rates, and position themselves as industry leaders.
Does this all seem overwhelming to you? Are you struggling with how and where to start?

Good news for you is that we specialize in white papers. 😉 Contact our team today to get started!
A Deep Dive Into White Papers