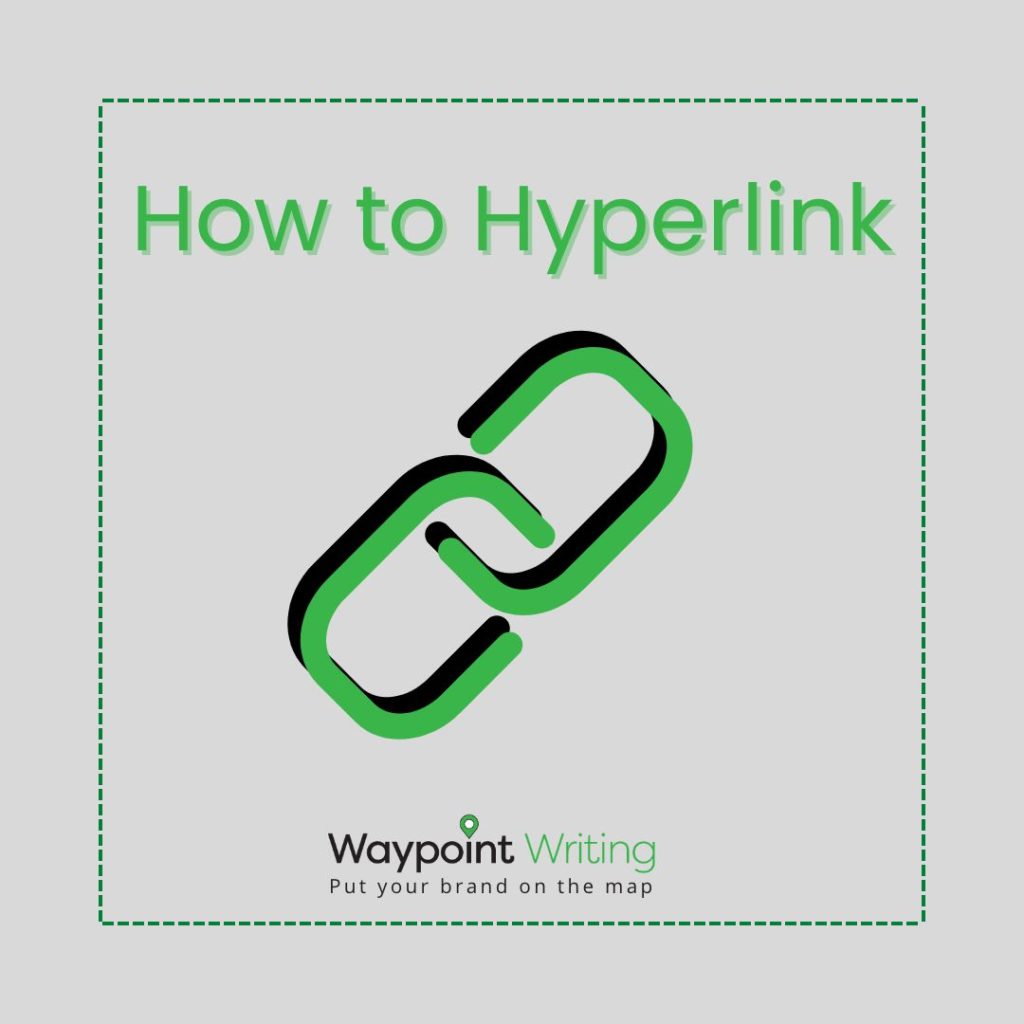 While writing a blog post the other day, I was adding links within the text and realized that I often hyperlink based on instinct. I began to wonder: is there a special formula or universal rule for hyperlinking within a blog post?
When I realized I had no answer to this question, I set out to find some general best practices for hyperlinking. A few months ago, we went over the basics of how to hashtag–now it's time to find out exactly how you should hyperlink.
Basics of hyperlinking
Before we get into the nitty-gritty of hyperlinking, we should go over the basics first. To begin, you must have a set of text that you would like to attach an external –or internal!– link to. After that, you can highlight the text and click the insert/edit link button in the editor.
In Google Docs it should look something like this.

And will appear in the toolbar right here.

In a Word Document it will look like this.
And appear in the toolbar right here.

Once you have found the "add a hyperlink" option, you can then paste the specific web address of the link in the URL box and hit the "add link" button. A hyperlink within a blog post should look something like this.
The Dos and Don'ts of Hyperlinking
According to The Beginner's Guide to SEO, "Links act as streets between web pages." They are a great way to connect related content without competition. It also is a great way to give credibility to the information you are providing the reader.
DO include links early-on in your blog post. Users spend 80% of their time looking at information that lies at the 'top of the fold' or beginning of the content.
DON'T overwhelm your reader. Try to stick to the golden rule of three to five links per 1000 words. Too many in a small amount of space will distract your reader and may do more harm than good.
DO have a clear call to action. Multiple links with different purposes can lead to some confusion for your reader. They may be unsure what the point of your blog post is. Make sure your links operate amongst a similar topic and move towards one specific CTA.
DON'T be afraid to link to an external resource. Adding internal links is a great way to connect content within your own company, however, it can be just as beneficial to link to an outside source. There are plenty of websites out there that won't pose a threat to your company and can be used to support the message of your blog.
DO make sure your hyperlinks open to a new tab. This is important because it will ensure your reader doesn't end up completely lost. Providing your reader with additional educational content is always a good thing, but you never want to encourage them to leave your website.
And one more thing…
Always, always, ALWAYS make sure your links work! As a reader, nothing is worse than clicking on something that you are curious about only to find out it's a broken link. And hey, it happens to everyone–but it's best to double check all links before publishing to ensure every link has a proper destination.
How Links Can Affect SEO
Linking to external websites can actually help with your SEO efforts. Adding links within a post adds a bit of authority to your content, which is great for SEO.
Hyperlinking is important because it…
Gives credit where it is due
Draws the reader in
Connects you to other websites (that aren't necessarily competitors) that share similar content as you
Can help build your following through relationships
Allows for more in and out traffic within your website
Hyperlinking is a great resource to use within your blogging efforts, but there are right ways to do it. Next time you find yourself hyperlinking based on instinct, try and remember some of these best practices!
And if you need any help along the way, reach out to our team of blogging experts–we'll have you hyperlinking like a pro and will always make sure your posts never reach a dead end!