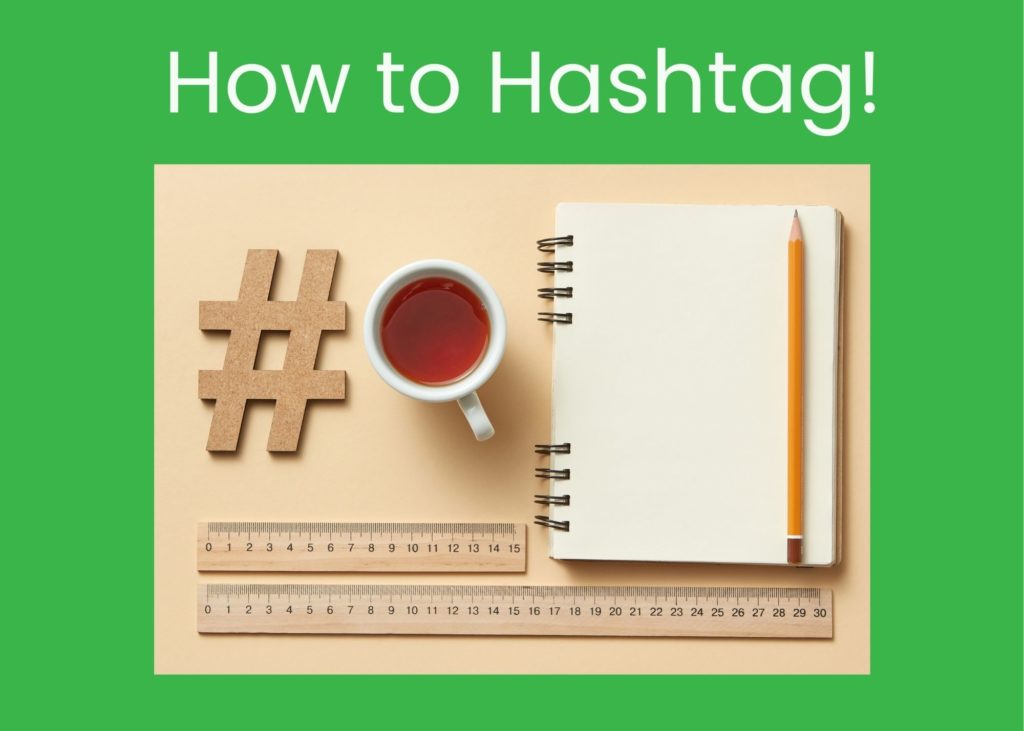 It may seem silly to even ask how to hashtag because it has been around for so long now and everyone uses them, but it's more than just adding a word after the # symbol. You must make sure that the words you are using in your hashtags are popular and relate to what you're posting about. But why?
This simple keyword phrase helps link your post with what is popular or trending. If you own a skincare business for example, you will want your posts to show up with other skincare related content. You'll have to use popular phrases and words like #Skincare, #Natural, #SkincareRoutine, #SkincareTips… just to name a few.
In 2022, hash tagging is a useful tool for any company to generate exposure—when it's used correctly.
So how exactly do you hashtag?
A Hashtag Handbook
While it is different for every business and depends on what exactly you are posting about, a hashtag focuses on popular words or phrases that relate to the content you are referring to.
Using a hashtag is generally universal but can differ a bit depending on the platform you use. We'll go over the main ones.
#Instagram
Instagram is a very popular platform to use hashtags. They are a way to increase reach and boost engagement. Some accounts will use around ten relevant hashtags to reach the widest possible market. Instagram only allows up to thirsty hashtags on a given post, but you shouldn't need that many anyway.
We recommend looking around on Instagram to see what hashtags are currently trending that you could use in your post. If you go into search, you can also see what things people have been looking for and curate your hashtags based on that. You can find a list here of the top Instagram hashtags of 2022 and possibly the most popular of all time.
#Twitter
Twitter was one of the first platforms to use hashtags, starting in the summer of 2007. The goal was to group related tweets together and this remains true today. Hashtags on Twitter are a little different. Unlike Instagram, you shouldn't use that many. One to two hashtags per tweet is more than enough.
Since Twitter is a popular platform, you will need to do everything you can to get the most engagement. Check out these hashtag research tools recommended for Twitter users.
#Facebook
Like Twitter, Facebook is another place to use a few hashtags. Hashtags can help you boost your reach organically, but using too many can make your business look unprofessional.
To see what hashtags are currently trending, you can type a keyword into the search bar and see all the things related to it that people have been searching for. By adding those to your post, you are grouping your content in with others, which can boost your post on people's timelines.
Tips and Tricks to Get the Most Out of Hash Tagging
1. Use capital letters at the start of each word in your hashtag. While there are a lot of benefits to hashtags, one of their downfalls is that they don't contain spaces and can sometimes be hard to read. To make your hashtags easier to read, you can capitalize the first letter of each word. Notice how #DigitalMarketing reads better than #digitalmarketing. Making your content accessible for all is an important marketing strategy because it prioritizes inclusion — and so should your brand.
2. Don't use too many words together. If you use too many words in a single hashtag, it can become confusing and lose its meaning. Twitter recommends keeping the word under six characters but that can be difficult in hashtags with multiple words, which is another reason why capital letters are crucial.
3. Use relevant and specific hashtags related to your brand. You can see what keywords or specific hashtags are trending by looking at the search of any platform. This will show the most popular words or phrases that have been searched for by people looking for products and services similar to what your brand offers.
4. Create a custom hashtag for your business. This groups your content together and allows your followers to see all of your business-related content in one place.
5. Use a combination of niche and popular hashtags. It is important to include popular hashtags so your content is shown in a category that you know people are searching for, but you should also include more narrow topic hashtags that way you ensure your content is seen.
Any business looking to boost engagement on any social media platform should take advantage of hashtags. Once you start hash tagging and see the advantages, you'll never go back!
Need help with hashtags or other strategic content creation? Contact our team for a consultation today!
How to Hashtag