The Pitch
I always looked forward to the several times a year that Berta— my friend for ten years and counting—made the four hour trip from the Boston area to visit me in Saratoga Springs, New York. Berta had red curly hair that she sometimes spruced up with a purple tint and loved horses. She was twelve years older than me, but we seldom noticed the age difference. I celebrated her visits because I was granted a reprieve from my primary responsibility, which was to keep my two young children—Tyler and Brynn—alive. Berta enjoyed the break from her routine and was about as laid back a houseguest as a person could be. She had only one requirement—we needed to visit the farmer's market before she left town on Saturday morning.
A Buzzing Business
Of all the farmer's market vendors, Berta admired Rick the Honey Man the most. I knew that her infatuation was mostly because he always wore his beekeeper hat and offered money back for returned glass bottles. I wonder now if her infatuation ran deeper than that; if Berta was subconsciously intrigued by his desire to spend countless hours in the company of these stinging insects. I imagined life as a bee in a hive—each bee with a specific responsibility, functioning around others but with an individual purpose. Each bee helping another in its unique way.
It seemed the honey man loved the markets, too. He was always cheerful no matter the crowd size or weather conditions. Just that day, we struck up a conversation about the honeycomb I purchased and what a great way to teach my son and daughter—four and two, respectively—about honey and bees. Did he remember that I was the bride who'd bottled his products as favors for my wedding nearly five years prior?
I didn't ask.
Close Quarters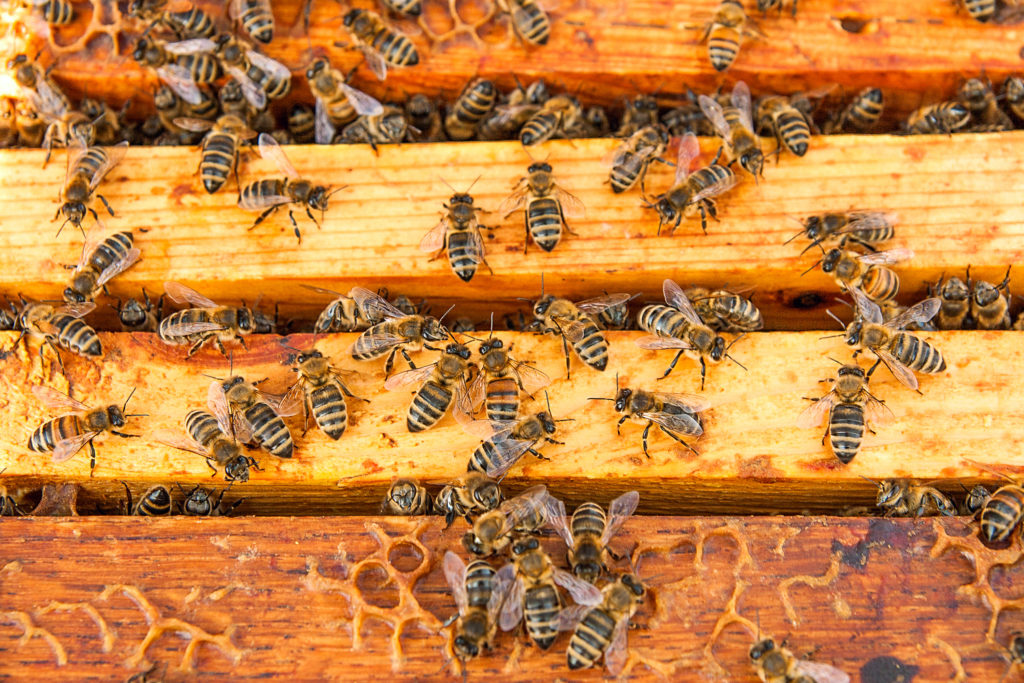 Berta's visit fell over Traver's Weekend, the highlight of Saratoga Race Course's horse racing season. Consequently, many of the market goers were from out of town, and I periodically noticed the crowd had expanded beyond its typical size. Since the farmer's market was part of my weekly routine, I felt like my home turf had been invaded. The crowd annoyed me. I wanted my town back, a feeling I'd been getting more and more lately—this pull to nurture my roots and stay close to where my husband and I were building our lives together. I was in my late-thirties and what was there to do but heed my desire to plan the weekend around the Saturday market to purchase the week's supply of eggs, chocolate milk, vegetables, honey, pickles and cheese curds, and to instill in my children an awareness that food didn't, in fact, magically appear in the food bin at the local supermarket.
Even in my twenties, when I lived a mostly transient life, I sought out the local culture, the lives that existed beyond the tourist industry in places like Mexico, Chile, Australia, and Africa, as well as across the United States. But there, in Saratoga Springs on Traver's Weekend, I was a local. Many Saratogans moved out of their homes for some or all of the eight-week horseracing season to charge several hundred dollars a night to race-goers, jockeys, owners, journalists on the racing circuit, celebrities, gamblers and other professionals drawn to Saratoga for those eight weeks a year. I was usually clumped in the group of locals who avoided town on Travers weekend. But not that Saturday.
Worker Bees on Break
The racetrack attracted a range of demographics and interests. But the Traver's race was the fourth biggest, most bet upon especially given its purse of many hundred thousand dollars. Porsches and Ferraris dotted the streets that Saturday, and Gucci dresses and extravagant hats and toddler girls with Easter dresses and boys in Nantucket reds and bowties and families in matching polo shirts and chinos and packs of men enjoying a "boy's weekend" or bachelor party, inundated the market that morning, much like bees to a hive. I thought of how each bee has its assigned role, wondered if they ever had time off, and imagined how the people buzzing before me had their various roles, too. Entrepreneurs. Builders. Engineers. Writers. Designers. Surveyors. All the subtle inner workings needed to keep the hive buzzing.
Berta and I passed vendor after vendor—all of them set up in their assigned spot, the sidewalk and park packed, table after table of blueberries and strawberries and squash and tomatoes and sweet corn and apples and pears and milk, of specialty spreads and peanut butter and wine and flowers and breads and eggs and goat cheese and pickles saturated in brine that served as a natural probiotic. I noticed again the excessive crowds of horse racing spectators filling their time before the races began. I stopped to purchase vegetables for dinner—zucchini, cucumbers and sweet corn. The farmer's beard was scraggly and white and I didn't know what made me pick his stand this week. In that flash of a second before we exchanged money for food borne from his sweat, there was a hint of despair in his eyes, a hard-working man trying to make a living, that's all, and he was up by dawn every Saturday to prepare for the market. Sweet corn, six ears for a dollar.
More Than We Bargained For
We walked on.
The crowds persisted.
My annoyance festered.
Berta and I met eyes after we'd each handed over five dollars for our share of the "two for ten" deal on cheese curds. The ones with chunks of sun-dried tomato were my favorite. But Berta preferred garlic basil. What I saw when I turned around made me feel like I was at a rock concert in Madison Square Garden instead of a community farmer's market in upstate New York.
"This is absurd. Let's get our egg sandwiches and get out of here." The crowd was simply too big to enable me to enjoy the rest of the market. The line for cheese curds was four deep. When I reached into my back pocket to get three dollars for a strawberry lemonade, I elbowed some guy in the stomach. When I tried to take a sip from the straw, my arm served as a roadblock for people walking in the opposite direction.
"You weren't kidding about the big race making it too crowded, huh?" Berta's summer visits were usually in the first couple weeks of track season but this year, our respective schedules didn't align until the busiest weekend of the track meet. "We'll have to make sure to get my summer visit in earlier next year."
"Yep."
Shifting Perspective
Five minutes later, with our breakfast sandwiches in hand, we sat on the outskirts of the crowd and watched the life around us. I sighed in contentment with the proof, again, that I often felt most comfortable from this sort of vantage point—I felt like I was part of a larger community without actually having to interact in it. The folk band singing Country Roads, the hum of merchants and customers talking and of traffic and kids yelling and of vibrant life provided the backdrop. As we watched the crowd I also enjoyed our decade-old friendship and the contented silence that accompanied it. I enjoyed imagining the various jobs the people around me had, and how my words could complement their actions. But Berta didn't really care or wonder about those sort of things, so I kept my musings to myself.
Knowing it was time for Berta to get on the road, we looked at our over-full canvas bags and laughed. I told her that it was so good to see her and thanked her for visiting. She agreed and said thanks for hosting her, that she loved these ritual visits, especially how they always ended with a trip to the farmer's market. Berta said she needed her honey for her morning tea. The Saratoga Peanut Butter lasted two months. But the garlic parmesan crackers seldom made it to the toll booths, she told me.
Beyond the Din
As we walked along Rock Street back to my car, I glanced behind me at the crowd and shuddered with disdain. I was temporarily unable to recognize that the reason or frequency of the market-goers didn't really matter after all—it was the excited energy and realness of the moment that did. But the truth was that—just like bees to a hive—we all functioned according to our respective place and associated role when engrossed in the hive mentality.
I knew the next time I saw Berta would be in two months when her riding club took its annual trip to a ranch less than an hour north of my home. I'd bring her a gallon of honey and a pack of the garlic Parmesan crackers. I'd wash my pickles down with chocolate milk on the drive. We'd ride strange horses and let them run the trails under the vibrant fall leaves when the racetrack had long fallen silent, the out-of-towners gone home. The locals would again be in the majority, and the farmers would continue to set up at their assigned spot every Saturday, the honey man among them.
The hive would continue to buzz.