Like most holidays or days of note, #GivingTuesday snuck up on me. I realized it only yesterday after a friend posted about her favorite charity on Facebook. At the moment, I'm in the process of exploring in no particular order or reason, Tim Ferriss' latest book, Tribe of Mentors. Having read Ferriss' Tools of Titans, I picked up his latest work on a mad-dash trip to Barnes and Noble last Sunday in pursuit of gift cards for a celebration Monday night. See what I mean? Important dates creep up on me – my old school desk calendar with a thousand scribbled reminders, notwithstanding.
The "Self" in Selfless
Tribe of Mentors was stacked on a display and because I can't just get what I came in for when I shop at Barnes and Noble, I picked up a copy and thumbed through it. The first page I randomly opened to – page 253 – actually made me think I was destined to buy that copy that day. (Note: this is a tried-and-true rationalization that I've used in defense of many book purchases).
Standing there, a few strands of hay still stuck to my jeans and clinging to my boots, telltale signs that I had just come from UpReach Therapeutic Riding Center, where I volunteer as an exercise rider.
Last Sunday, I stuck around after my ride to load and transport hay, which is how I came to look so disheveled on my "quick" trip to Barnes and Noble where I came across the Muhammad Ali quote, "Service to others is the rent you pay for your room here on earth." Ferris lists this under "Quotes I'm Pondering" dated June 24-July 15, 2016. This guy's organization of his own thoughts blows my mind, given my important date-dementia, which brings me back to #GivingTuesday.
The Genesis of #GivingTuesday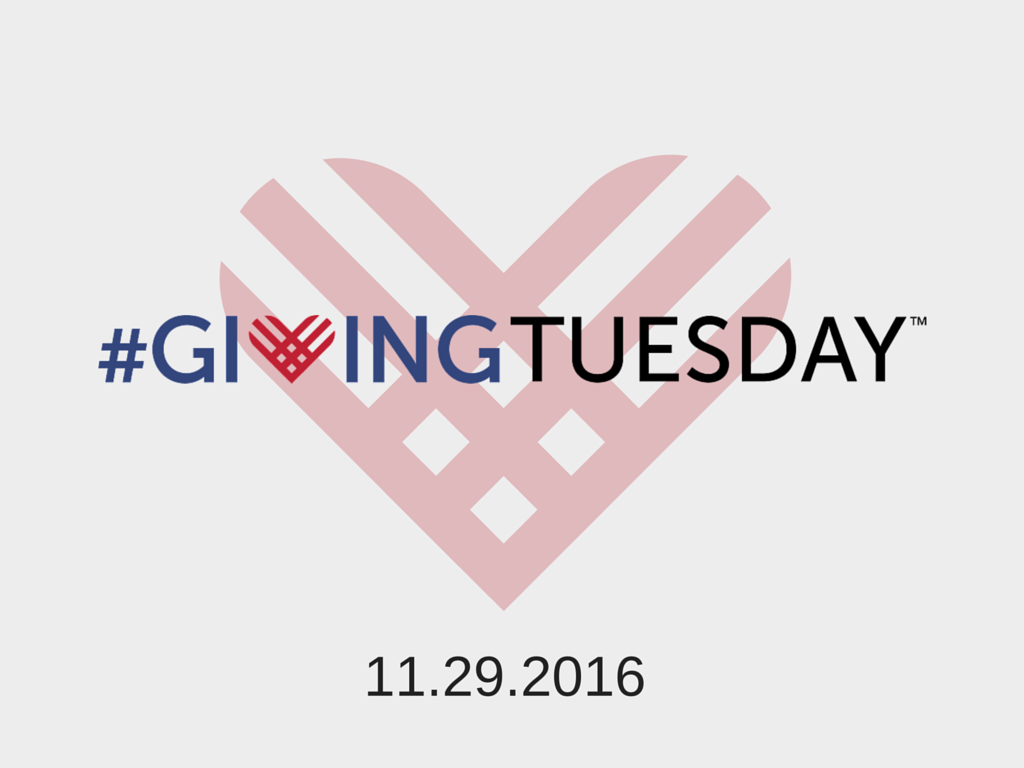 Now in its sixth year, #GivingTuesday is the collaborative initiative of the Belfer Center for Innovation & Social Impact and the 92nd Street Y. Ultimately, their work "connects diverse groups of individuals, communities and organizations around the world for one common purpose: to celebrate and encourage giving."
The timing of #GivingTuesday is perfect – following on the heels of the commercial consumer-driven Black Friday and Cyber Monday. It's an opportunity to reconsider the spirit of the holiday season and shift the focus away from ourselves and outwards to our neighbors and communities.
Grappling with Giving
I'm 100% on board with #GivingTuesday. But, as a very new owner of a currently very small business, an anemic bank account doesn't give you much to work with, as far as donating any sum of the money that would truly make a difference. I get that, like it or not, money talks. At best, mine would whisper – a sort of strangled, gasping-for-breath, possibly asthmatic whisper. And, if I'm completely honest, I've often wondered where exactly money donated really goes. If I'm going to give, I want that item, sum, whatever it is, to go directly to whoever needs it – not to purchase a ream of paper for the nonprofit's office.
The unknown benefactors of monetary donations is, I believe, in part why many people identify with compassion fatigue – an experience of feeling overwhelmed, discouraged, or otherwise skeptical of one's ability to meaningfully help those in need.
Considering the number of natural disasters we've already seen this year, not to mention ongoing humanitarian crises, incidences of compassion fatigue aren't surprising. However, they do undermine positive momentum and impede progress. A recent article, 4 Reminders to Prevent Donors from Getting Compassion Fatigue by David Heitman, speaks to this:
Given the recent string of catastrophic events, amplified by nonstop media coverage, you certainly can't fault people for beginning to feel compassion fatigue. After making personal or workplace donations to charities…it's understandable that donors might begin to feel worn out—or perhaps even begin to wonder how much of a difference they are making.
Understandable? Certainly. An excuse to stop paying earthly rent? Nope. The trick, I believe, is figuring out what making an impact looks like to you and then following through on whatever actions animate that impact.
A Campaign of Choice
What I love about #GivingTuesday is its call to action: Help others through the gift of your time, donations, goods or your voice.
Burned by the Wounded Warrior Project scandal or the misappropriation of funds donated to Operation Smile? Just can't swing a donation much greater than dropping spare change in the Salvation Army bucket at your grocery store?
Take a page from the #GivingTuesday guide and donate your expertise and time instead. Consider speaking or writing on behalf of an organization whose message resonates with you. Leverage the lazy route… Anyone with an Amazon account can engage in passive philanthropy by simply shopping AmazonSmile instead, which means 5% of the cost of your eligible purchase will be donated to a charity of your choice.
A choice to make an impact, however you believe that impact must be made, is key to overcoming compassion fatigue, continuing to fight the good fight, and paying your earthly rent, in the wise words of Muhammad Ali.
To that end, I've extended my commitment to UpReach, adding a mid-week morning of mucking stalls and looking after the herd to my regular weekend exercise riding commitment.
So, whether you give your tens, talents or time, get on board with #GivingTuesday and embrace generosity this holiday season. How will you or your business honor #GivingTuesday?
The Genius of #GivingTuesday {VIDEO}