With Valentine's Day upon us, I decided to craft a little ode to my new favorite business tool — Google's Schedule Send. I love this feature and consider it a game-changer when it comes to communication, but also organization and tackling the endless to-do list.
That's why I'm shocked when colleagues and fellow business owners who always seem to have way more on the ball than me, have never heard of this gem. 
Consider this post my way of playing Cupid and matching up the uninitiated with this dreamy delivery system…
Why You Should Schedule Send
By way of introduction, Google's Schedule Send is simply a tool that allows you to schedule when an email will actually be sent from your personal or business account. Why does this matter? Why can't you just send an email whenever you finish writing it?
One word: boundaries. All relationships need them.
As business owners, we make our own hours, which essentially means we work all the time. Broadcasting this to you clients or even colleagues can result in on-demand expectations that you'll respond to any and all requests right away.
In other words, catching up on emails late at night or (gasp!) over the weekend is basically like advertising your business has modeled its hours after a 24-hour CVS or Dunkin' Donuts.
Does anyone really need copywriting at 11 o'clock Friday night or 5 o'clock Sunday morning? If they do, there are larger issues at hand.
The thing is, you might only be able to answer emails very late at night or insanely early in the morning and that's fine. Run your business however you need to. As a mother of a toddler with a new baby already on the way, I work whenever I can and those times often fall outside the traditional work day.
What I'm suggesting, and why I so appreciate Schedule Send, is that you can maintain the appearance and, more importantly, manage expectations that you work during "normal" business hours.
In other words, take control of the time stamp on your emails to keep yourself from appearing available 'round the clock.
Show Some Consideration to Colleagues and Clients
Before I hit send, I tend to think of emails as old-school, landline phone calls. Would you "call" a colleague or client at 10 o'clock on a Tuesday night? Probably not. So, why should you possibly "ping" their cell phone or otherwise disturb their off hours with some kind of "alert?"
This digital age is demanding and our relationships with technology are increasingly taxing our work-life balance and real-time interactions.
By using Schedule Send, you help support a "normal" work day structure for your colleagues and clients. That, to me, translates as respect for the relationship.
How Do I Use Schedule Send?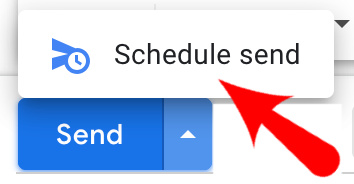 This will likely be the only post I write praising any kind of tool or technology, given that I am not tech-savvy. Schedule Send couldn't be simpler. 
That said, be aware that third-party email tools cannot access Schedule Send. If you check your email through Outlook or Mail, the service may not be available through Google. Provided you are using the web version of Gmail or the Gmail app, you'll be all set.
All you have to do is click on the downward arrow to the right of the Send button on the bottom left of your email window. Once you've done so, the Schedule Send button will appear.
Click Schedule Send and choose whatever time you want your email to arrive in your recipient's inbox. Google offers standard options, like 8:00 a.m. or 1:00 p.m. the next day, or you can choose another day entirely, specifying whatever time you prefer.
To Summarize Why I Love Schedule Send
Using Schedule Send helps me stay on top of my inbox and knock items off my to-do list, while allowing me to present my working hours in a manner that protects my efforts at striking that elusive work-life balance.
Do you use Schedule Send? Tell us what you think about it in the comments!
From the team at Waypoint Writing, Happy Valentine's Day!
Signed, Sealed, Schedule Send